How to Distinguish Die-casting Aluminum and Extruded Aluminum for Aluminum Housing?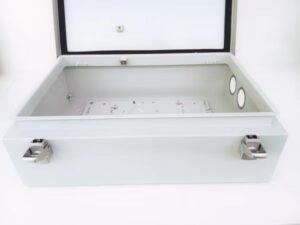 The aluminum housing is stamped with aluminum alloy material, which has good ductility, low density, electrical conductivity, heat transfer, corrosion resistance, and beautiful appearance, etc. It is widely used in instrumentation, meters, electronics, communication, automation, sensors, smart cards, industrial control, machinery and other industries.
The principle of extrusion is to apply pressure to the aluminum bar in the extrusion cylinder, so that the aluminum bar close to the melting point is extruded through the die hole of the die in the shape of the die hole, so the extruded aluminum profile is equivalent to the extension of a two-dimensional plane, and in theory this plane can be extended infinitely, but due to the length limitation of the equipment, the late operation of long material is difficult, and generally the extruded aluminum profile does not exceed 6 meters long, and then it is cut according to the actual use size.
And the principle of die-casting is to melt the aluminum alloy completely and then inject it into the three-dimensional aluminum shell mold, and keep a certain pressure, open the mold after cooling, a die-casting aluminum alloy shell is finished. The appearance of die-cast aluminum shells is much more varied.
From the above it can be seen that extruded aluminum housing can only change shape in two-dimensional cross-section, while die-casting aluminum housing can change shape in any part of the three-dimensional. Die-cast aluminum can be made into a hollow ball, while extruded aluminum can only be made into a hollow round tube, its two ends are through, so the extruded aluminum shell will be closed at both ends using a cover or aluminum plate to seal up. And die-casting aluminum shell can be made into a box shape, covered with a cover plate. But we extruded aluminum profile shell or more common than die-casting aluminum shell, because die-casting aluminum mold fee is expensive, and production efficiency is not as good as extruded aluminum profiles, processing costs are also higher, in some cases need to be waterproof and airtight will need to use die-casting aluminum shell.
Custom Metal Box Manufacturers | Custom Sheet Metal Enclosures | Custom Aluminum Box | Custom Sheet Metal Boxes | Custom Metal Boxes | Sheet Metal Supplier | Steel Box Manufacturers | Sheet Metal Box Manufacturers | Custom Made Metal Boxes | China Sheet Metal Manufacturer | Outdoor Vending Machine Enclosures | Industrial Machine Enclosures | Metal Enclosures for Electronics | EV Charger Outdoor Enclosure | Outdoor EV Charger Enclosure | EV Charger Enclosure | Custom Aluminium Box | Custom Steel Box | Metal Box Supplier | Metal Enclosure Manufacturer | Sheet Metal Enclosure Manufacturers | Metal Enclosure Box Manufacturer | Metal Enclosure Manufacturer | Aluminium Box Manufacturer | Outdoor Equipment Enclosures | Aluminium Box Manufacturers | Equipment Enclosures Metal | Metal Enclosure Box | Metal Enclosure | Enclosure Box Price | Sheet Metal Manufacturers | Sheet Metal Manufacturing companies | Custom Made Aluminium Boxes | Custom Made Metal Box | Aluminum Sheet Metal Fabrication | Aluminium Sheet Metal Fabrication | Auminium Tool Boxes Made to Order | Custom Metal Enclosures | Custom Stainless Steel Box | Custom Made Aluminum Boxes | Metal Box Manufacturers | Custom Steel Enclosures | Custom Stainless Steel Enclosures | Custom Metal Box | Custom Aluminium Box | Sheet Metal Fabrication Supplier | China Sheet Metal Fabrication | Custom Sheet Metal Fabrication | Sheet Metal Fabrication Services | Metal Manufacturing in China